Enigma is our engine for 64k intro development and will also be used for demos at a later time. Here's a list of its features:
Supports both procedural and loaded geometry.
Same is true for textures.
Requires shader model 3.0 for rendering.
Implements deferred shading
Hardware pcf soft shadows
Full dynamic frustum culling
Post effects system
Supports bump-/specular-/refraction-mapping and per-pixel lighting.
Supports particle systems, liquid simulations and l-systems
Includes an animation system that can modify ANY parameter at ANY time
Ultra lightweight scripting system.
It allows to easily construct textures, materials, objects, groups, lightsources, cameras, particle systems, scenes and more while you can instantly see what the final result in the demo will look like. Everything in Enigma is made of a sequence of commands, and you can change every parameter at any time and play around with them until you have exactly what you wanted. Even non-artists can create things easily and quick which makes the work with the tool really fun. Also our current Tunefish v3 synthesizer is integrated tightly into the tool, making it a feature-complete demo production environment.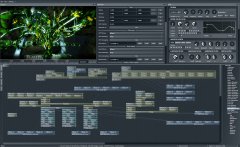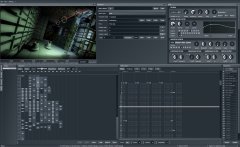 Download Enigma_Studio_3_-_Transplant_Edition.zip
erbsen